VM

This is a post I have been working on for a while. It's a longish read so look away now if you don't like in-depth analysis of branding. But since you're on this forum, you probably do.
Twenty years ago today, the BBC unveiled a brand new corporate identity designed by Lambie-Nairn. It involved a complete rebranding of all the BBC's services and their own corporate logo. After many years of the familiar slanted, italicised BBC blocks, this design was ditched for a stark new look using the Gill Sans typeface, that looked more modern, worked better at smaller sizes and integrated easier with other BBC brand logos.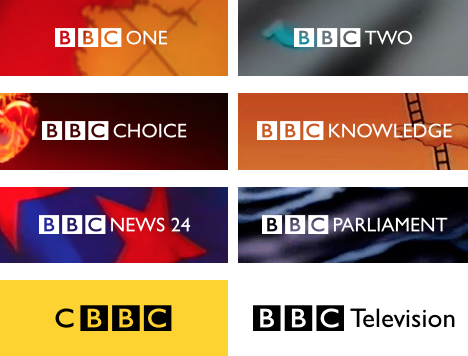 • Above: BBC television channel logos and snippets of their respective channel branding, first seen between 1997 and 1999.
This corporate unification followed through to on screen presentation as well - each channel followed the same template for the placement of logos, menu text, trails, slides and so on. It even extended to the BBC and Flextech joint venture of cable/satellite channels, UKTV.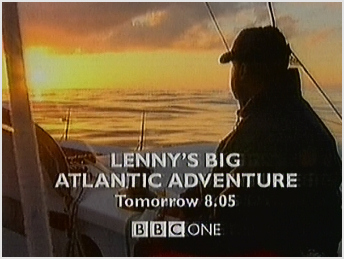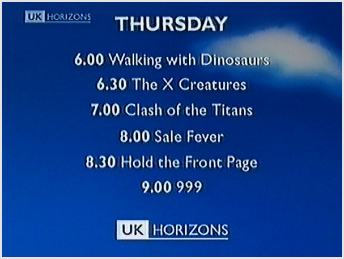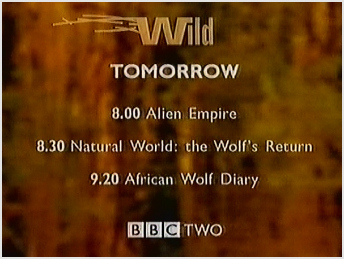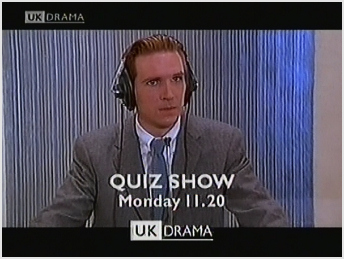 • Above: Screenshots taken from The TV Room, showing how the menu and trail design was shared between the BBC channels and the UKTV channels
The original concept behind the rebranding was that too much of the personality of each brand was being squeezed into hundreds of completely different logos.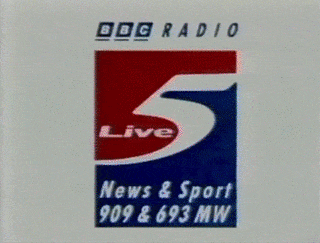 • Above: Animated GIF of compilation of the 'zillions of BBC logos' taken from a video presentation by Martin Lambie-Nairn. Note how many of them are local radio stations - I talk about this more later on in this post.
Initially, when comparing the previous logos to the new ones on their own, the new approach can look sterile and devoid of, well, personality: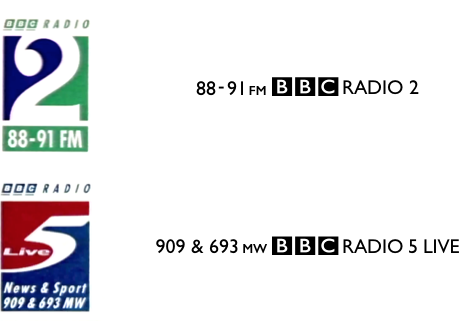 • Above: BBC Radio 2 and BBC Radio 5 Live logos, pre-1997 and post-1997 compared side by side, with the post-1997 logos displayed plain on their own as in the original corporate identity guidelines.
This is because instead of all of the personality being poured into the logo itself, additional graphical elements were used to give each service its own style (this can also be seen in the television logos graphic earlier in this post):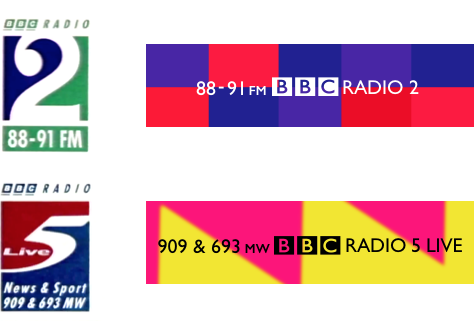 • Above: Same as previous graphic but now with (recreated) backgrounds taken from graphics that were used in places like on TV slides and in the Radio Times. (Stacked versions with the frequency underneath were also allowed and shown in the guidelines and would probably look better here, but the 'original artwork' was chosen to show the intended official design).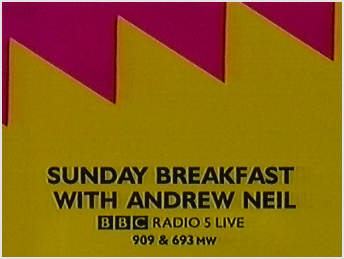 • Above: Further real examples of how these patterns were used for TV slides. Note how the frequency doesn't appear on Radio 2's slide, something that the guidelines stated must appear at all times. The Radio 5 Live example uses the stacked version that was allowed in the guidelines.
Although the logos by themselves may have looked boring at the time, nowadays, many modern brand identities do not make the logo the be-all and end-all. For example, Comedy Central's logo by itself is rather plain, especially compared to the wacky tower logo they used for many years beforehand. However, the brand personality is instead represented by surrounding elements of presentation.

• Above: 2011 Comedy Central logo.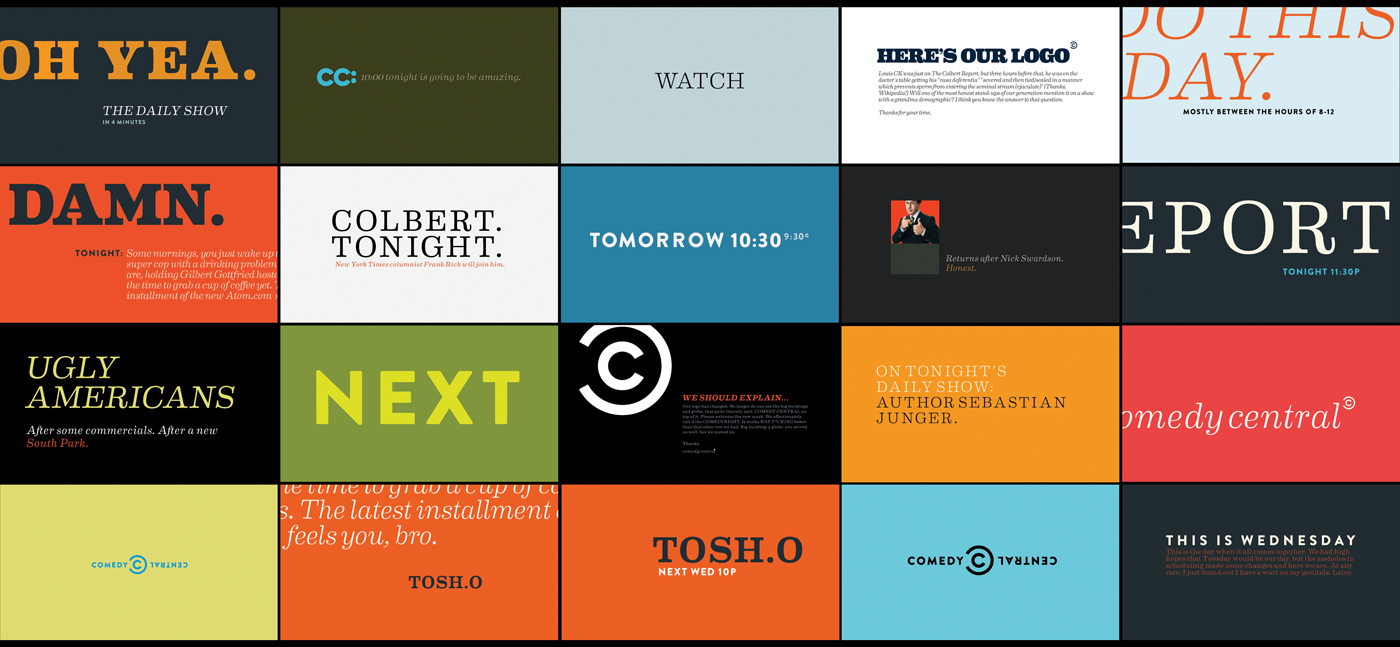 • Above: 2011 Comedy Central presentation that launched with the then-new logo.
I've posted on this forum before about how I admire the 1997 corporate identity. It was a bold decision to break away from the BBC's past and create a logo that has proved timeless - thanks to the choice of Gill Sans which in itself is timeless. The pre-1997 logos look immediately dated to the time in which they were created, but the 1997 logos still look contemporary, though I doubt such a ruthless implementation of the '
BBC Anything
' idea of the BBC logo followed by the name set in Gill Sans would happen now. However I think overall the redesign stands the test of time.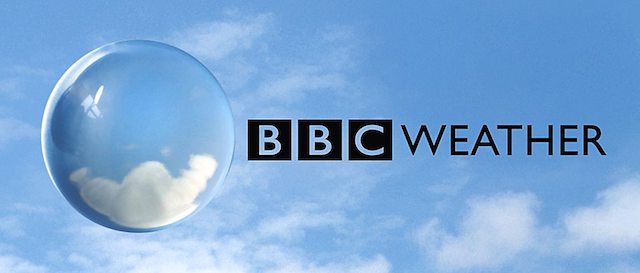 • Above: The 'BBC Anything' system is still around if you look… at least for now.
One area in which I think the rebrand had the most impact was BBC Local Radio. If you look at the animated GIF earlier in this post, you can see that each station had its own individual logo that tried to represent the area it was serving. These cumbersome designs were dropped in the rebrand, of course, but interestingly ever since then BBC Local Radio has continued to use a unified brand that all of its stations utilise.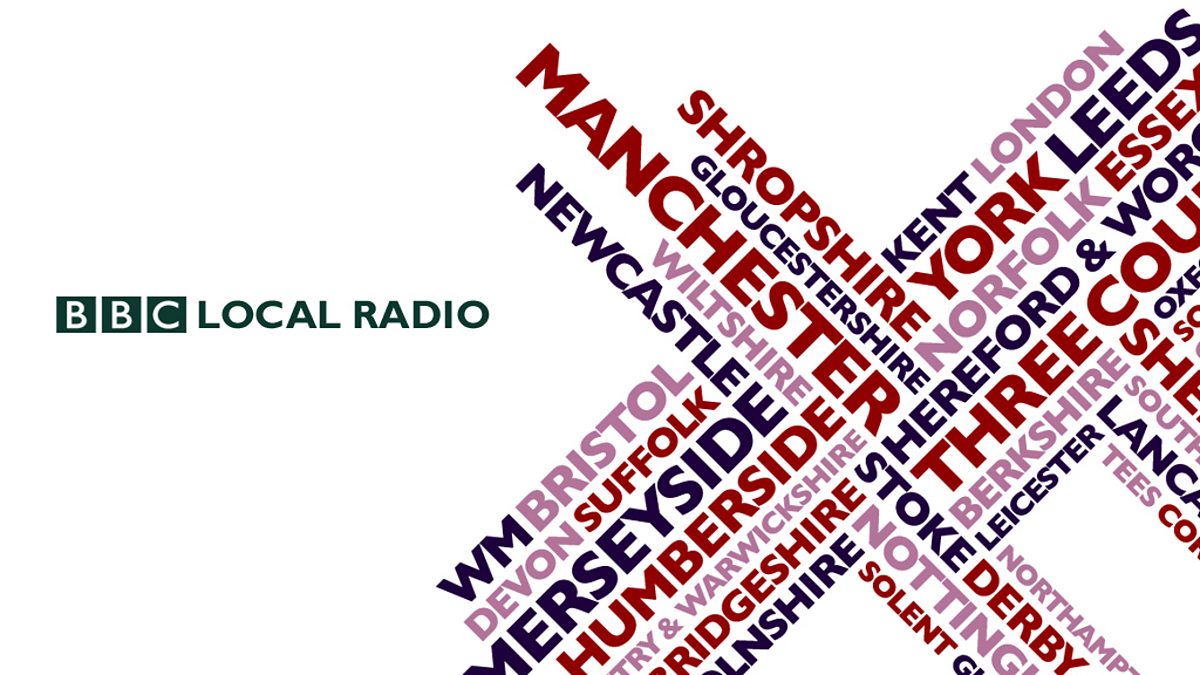 • Above: The current unified BBC Local Radio brand identity.
Nowadays you'd be forgiven for thinking the great logo clear out of '97 was a figment of Martin Lambie-Nairn's imagination. While fellow broadcasters like ITV, Channel 4, Channel 5 and Sky continue to have a mostly unified look across their services, if admittedly not as rigid as BBC '97, the BBC has gone back to the method of most of its brands having their own unique logo.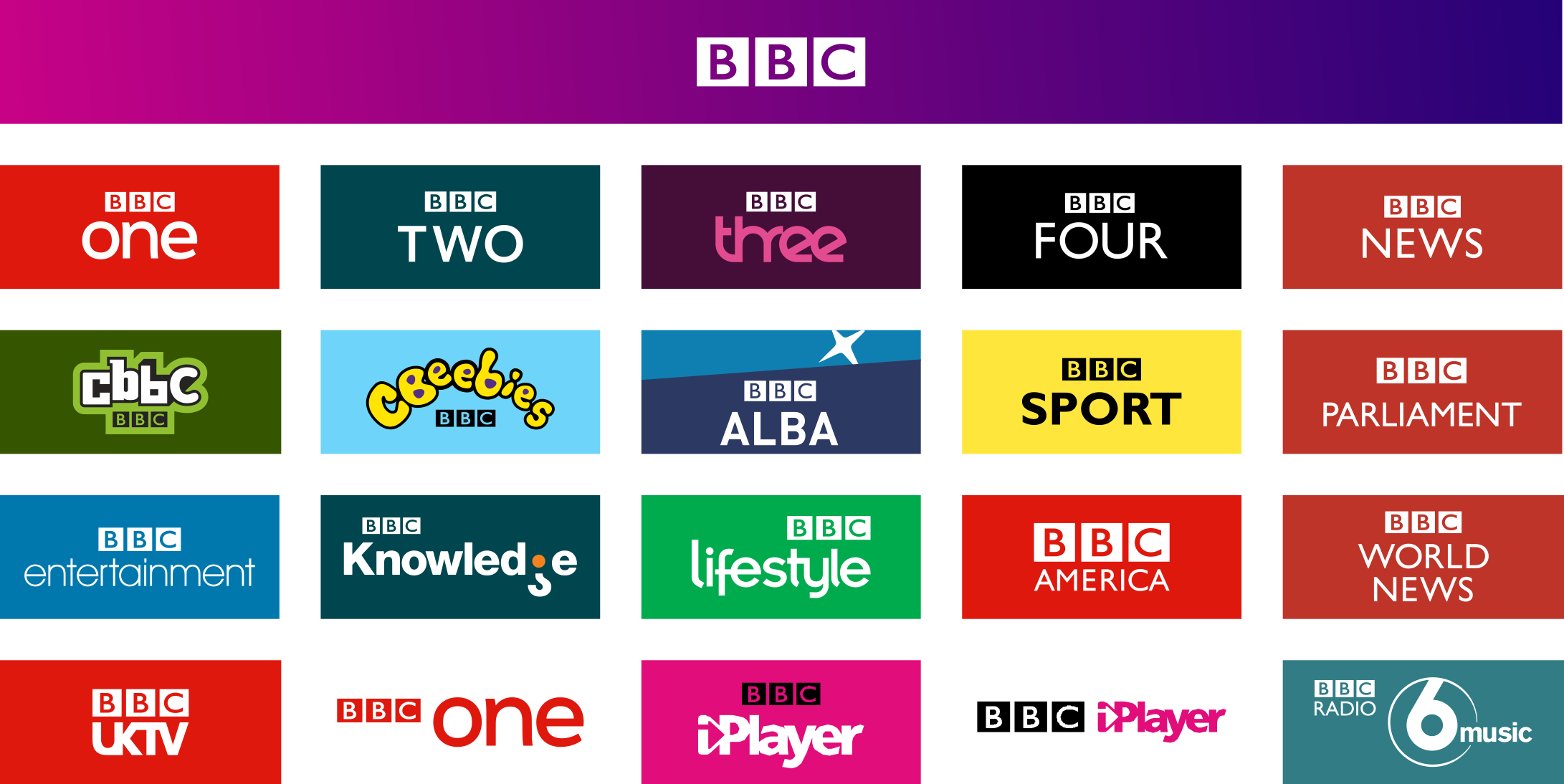 • Above: A slightly out of date but nevertheless indicative collection of modern day BBC brand logos, originally put together by mdtauk.
Now twenty years on, this year marks the beginning of another shift in the BBC's corporate identity with the gradual replacement of Gill Sans with the BBC's new typeface, BBC Reith (apart from in the main BBC blocks logo). So far only BBC Sport have deployed the new typeface across its branding, so how the rest of the BBC's services will implement it remains to be seen, but I don't think anyone would deny that another, well-designed unified look to the BBC's branding would be welcomed - if not as drastic as the 1997 rebrand in its corporate unity.

• Above: BBC Reith - the future?
~
I'm curious. What was your reaction to the rebrand in 1997, and did your opinion change over time or do you still feel the same way? Could a rebrand of its size ever work again nowadays? And do you think the BBC should have another complete revamp, even if it doesn't have to be as drastic or bold as 1997 was?